Fry Line
The most efficient processing line worldwide for french fries
Fry Lines
Idaho Steel is active worldwide in designing, producing and installing complete processing lines, factory upgrades and individual machines for french fries. With over 50 years of knowledge and experience in the field of processing potatoes into french fries with the latest technologies and techniques, Idaho Steel, together with its global partners Kiremko and Reyco Systems, provide you with the right information that goes beyond just specifying the necessary machines.
The design of process lines for french fries is always tailor-made, meeting the highest quality requirements, and a reliable concept to guarantee the continuity of your production process. A processing line contains more than 150 individual machines in the primary product stream, but also an increasing amount of secondary systems such as waste transport, starch separation and measuring and weighing systems. Integrating these machines and systems into a process line by means of a specific project-based approach is one of the specialties of Idaho Steel.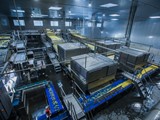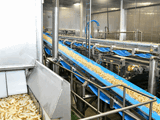 The Process
We integrate innovative techniques into our processing lines. Effective lines for washing, destoning and optionally with salt baths, can be used to sort the potatoes for density and to remove foreign objects such as wood and straw. Modern steam peelers with condensate separation and removal systems are used to minimize peel losses and increase the efficiency of the process. Together with the help of the Kiremko PeelGuard®, optical sorters check the quality of the raw potatoes, the cut fries and finally the frozen end product to remove any foreign objects from the process.
The QuadraFlow hydro cutting system guarantees optimum cutting quality and dimensional stability. For the processing of potatoes into the perfect french fries, we supply our customers with blanchers (belt or screw type), innovative Delta-X dryers, coating systems and fryers that will give french fries their famous golden color. In addition to the more traditional defatting systems, Idaho Steel offers the advanced EcoMiser™ system, from Reyco, for effective removal of excess cooking oil. In order to complete the processing line, together with strategic partners, we also supply cooling-freezing combinations and complete packaging installations.
Process control, data collection and self-managing functionalities in processing lines are of increasing importance. All lines can be delivered with SCADA systems for automatic control and continuous process monitoring and data recording. These are built according to the latest safety and hygiene standards and comply with local regulations and requirements. Idaho Steel has manufactured and installed lines for the production of french fries all over the world and can adapt the designs to local needs and conditions.
The Application
From lines with an output of 2,000 - 3,000 lb/hr to complete industrial processing lines with a capacity of more than 75,000 lb/hr, Idaho Steel offers effective, cost-saving solutions to meet the individual production demands of customers. In addition, complete turnkey packages are delivered to suit all capacities and budgets. Idaho Steel is at the forefront of developing and applying technology for coating and flavoring of french fries. A processing line should be set up with the flexibility to produce various types of pre-fried potato products. Crinkle cut french fries, oven french fries, and matchstick, are a few examples and are necessary additions to the delivery program of the french fry producer. Other crops are also increasingly being processed on the processing line, such as sweet potatoes and parsnip.
Idaho Steel also supplies lines for formed potato specialties, such as hash browns or flakes, which are installed in addition to the french fry line.