About Idaho Steel
Idaho Steel began in 1918 as a small fabrication shop in downtown Idaho Falls, Idaho and has been transformed over its 100-year history into a leader in the potato processing equipment industry. Now, an internationally recognized expert in stainless steel fabrication and machining of food processing equipment, Idaho Steel serves customers around the world with its state-of-the-art machines including the largest drum dryers ever created. We credit our success to the talented people on our diverse team of professionals including engineers, machinists, and welders.
Family is an important word to our company. In 1991, Lynn Bradshaw bought Idaho Steel and in 2008, sold it to his sons Delynn and Alan, and his son-in-law, Davis Christensen. The family atmosphere of our culture is due not only to ownership ties that have spanned generations, but because we consider our employees and customers family, too.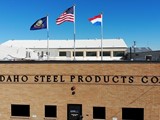 Mission
Through dedication to the highest quality, safety, and solid craftsmanship, we create an environment that inspires loyalty and innovation. With gratitude for our past, we will always serve our industry with pride and integrity. By investing in our people, with their families in mind, we continually improve our products and processes to exceed the expectations of every customer.
Vision
Be the premier supplier of potato processing equipment to the world.
Values
Integrity
Be honest with strong moral principles;
Quality
Offer superior products;
Service
Provide excellence in all interactions;
Innovation
Develop and apply new technology;
Loyalty
Dedication to team and customers;
People
Lifting the Team toward their highest potential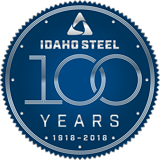 A Century of Excellence
100 years of innovation at Idaho Steel is worth celebrating!
We invited our customers, employees, and partners to celebrate this significant milestone during a joyous weekend of fun in June 2018. The festivities began on the first day with an official tour of Idaho Steel and an all-day extravaganza of the best food southeast Idaho has to offer including a "street fair" style lunch provided by local vendors and a dinner from local favorite, Jaker's. The evening concluded with a concert from musical sensation Alex Boyé! The final day of celebration ended by entertaining our customers and partners with different regional adventures and a formal party hosted by the Hilton Garden Inn.
We are extremely grateful that so many of the Idaho Steel family joined us for this momentous occasion!
Idaho Steel would not be the success it is without their strategic partners Kiremko and Reyco who combined, help our organization succeed on the world stage.
These crucial partnerships benefit our customers by providing more efficiencies, the latest technology, and a hands-on approach to the creation, installation, and maintenance of our equipment.

Founded in 1965, Kiremko B.V. is a Dutch engineering company focused on potato processing manufacturing. Idaho Steel and Kiremko are licensed partners in order to strengthen the implementation of complete processing lines for fries, dehydrated granules, potato specialty products, chips, and potato salads.
Kiremko is a well-known presence in the international marketplace and has offices in the Netherlands, Russia, India, China, and additional personnel representing their company worldwide.
Constant innovation allows Kiremko to raise the standard. In this way they closely study each food-processing procedure, in order to develop and produce machines that are not only more powerful and efficient, but also low-maintenance and more water & energy efficient, without sacrificing the quality of the end product. That is what Kiremko's quality is all about.

Reyco Systems provides oil and moisture recovery, along with food and waste conveying. Also offering UVC decontamination systems to food processors worldwide. Our partnership allows for our customers to receive the highest level of decontamination and waste system services in the industry.
As of early 2019, Reyco waste systems are a mainstay in over 80% of the major fresh-cut fruit and vegetable plants worldwide. Located in Caldwell, Idaho, Reyco's recent developments include the design of the EcoMiser oil recovery system, EcoVac water recovery and removal system, and specialized air makeup systems for the food industry.