Cyclone Destoner
The Cyclone destoner removes stones and clay shells. The gradient of the funnel and the variable water flow determine the optimum result.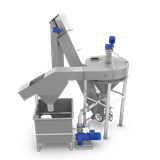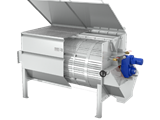 Pre Washer
Based on mutual friction, the drum washer will remove clay, sand and soil from the potatoes.
Receiving Bins
Produce may be received directly from a field harvest truck and the entire process from raw material to finished product begins.